Here at Art Scatter we've been keeping a keen eye on this year's political races and the concurrent pommeling and puffing-up of patriotism that's been accompanying them. In ordinary times we don't pay a whole lot of attention to the sloganeering of the love-it-or-leave-it crowd. People wave their flags and spout their platitudes, and life pretty much goes on, unimpeded. But it seems such a hot topic as November 8 approaches that we decided to consult an expert on the subject, Dr. Samuel Johnson, the noted English poet, essayist, and lexicographer. Dr. Johnson is a devout Tory but possesses a sharp wit and a keen mind, and will rail against foolishness and chicanery wherever he believes he has found it. Even in the midst of a vicious election season, he is no blind slave to party loyalty.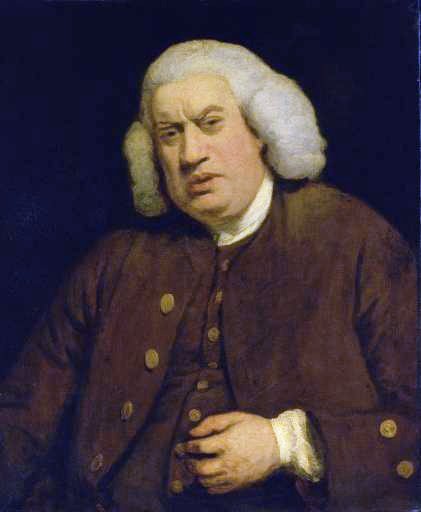 The good doctor, as it turns out, has been busy checking proofs for his essay "The Patriot," in which he expounds upon this very topic, and so could not meet with us in the flesh. But he agreed to answer questions through his publicist, Mr. James Boswell. The arrangement seemed congenial, and so we submitted our queries. In due course the good Mr. Boswell returned Dr. Johnson's replies, a few from the very pages of the essay he's been preparing. Here is the result of our long-distance discourse.
*
Everybody's talking about it, from presidential candidates to professional quarterbacks. And everybody seems to have a different idea about it. What exactly IS patriotism, anyway?
A patriot is he whose publick conduct is regulated by one single motive, the love of his country; who, as an agent in parliament, has, for himself, neither hope nor fear, neither kindness nor resentment, but refers every thing to the common interest. Continue reading Patriotic gore: Dr. Johnson on the political brouhaha in the Colonies →